Practice makes perfect. That's what Ben the kitten needs to be reminded of when it comes to drinking water.
In a video uploaded to YouTube in May by Spot the Kitty, the teeny, tiny kitten tries to drink water from a bowl and… doesn't do so well.
To Ben's credit, he's only three weeks old in the video, so there's a whole lot about the world he has yet to figure out. And up to this point, he's probably been latching onto Mom or bottle-fed, so the concept of sticking your face into a bowl of clear liquid instead of those two other options seems exponentially less appealing.
Here he is giving it his best shot.

OK, not bad, little man. Get right down in there and lap away.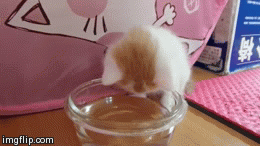 Well, hmm. We see what you're going for. It must be tough to keep the water on your toungue long enough to swallow, so… good job.
However necessary, we all need to stay hydrated. You do you, Ben!