It's the little things that make all the difference.
Sophia the Saint Bernard was suffering from terminal bone cancer and had to be put down. But before saying goodbye, her owners wanted to give her one final day of fun.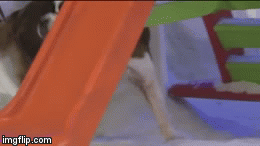 In a video uploaded to YouTube yesterday by Press Association, owner Alyson Paige discusses the strong bond she's had with Sophia over the years and how she wanted to do something special for her dear friend.
"I've been searching for ideas, just something to make the last time we have together really special because she's such a special dog," Paige says.
On a whim, Paige reached out to the Chill Factore, an indoor slope for skiing and snowboarding located in Manchester, England, to see if it would open its door to the snow-loving pooch. The facility happily obliged, and so, on her last day before she had to be put to sleep, Sophia got to enjoy a final, snowy romp.
"Just to see her with a wag of her tail and diving around in the snow — snow angels — it's just been amazing," Paige says.


Although losing a pet is never easy, Sophia's family can take some comfort in knowing they made her happy one last time.